It's Speak Up Saturday! (On Monday, yea…Kahlen's birthday party was this weekend. That's a good excuse, right?)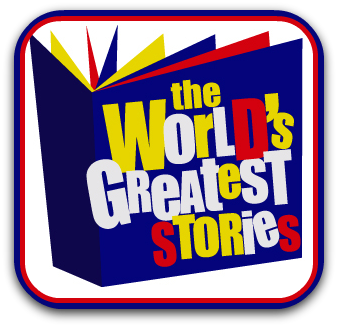 Actor George W. Sarris brings to life in the mind's eye the characters and events of some of the most treasured stories in all of history. The texts of all of the stories are taken directly, word for word, from the Bible. They are told, however, using the art of a dramatic storyteller, incorporating carefully chosen music and sound effects. The result is a very exciting story that comes straight from the words of Scripture.
Since Kahlen loves listening to audio books, and she's about worn out her copy of The Jesus Storybook Bible, I was very excited to receive this set through TOS Homeschool Crew.
I received volume one in the NIV version. It includes:
The Blazing Furnace
The Handwriting on the Wall
Daniel in the Lion's Den
Elijah & the Prophets of Baal
The Prophecy of Jonah
The first time I popped it in the car, I thought, incorrectly, that the kids wouldn't like it. The drama of the reading is, well, dramatic. Almost scary in parts. BUT my kids both really enjoy listening to it!! Kahlen will sit on the couch even and listen to the whole thing.
I really like the concept. It's directly from scripture, with no additions or subtractions, but presented in such a way that she can still understand the story. When I've listened to it with her, she has asked questions during and after about what a certain word means or what that part of the story was about, which I appreciate because it opens good conversations.
I'm looking forward to purchasing more volumes of this great series. Currently, there are 5 more volumes, for a total of 6. Each one retails for $7.95, which is very reasonable!!
Here are the products currently available:
The Prophets
The Life of Christ
Beginnings
Joshua & Esther
Joseph & His Brothers
Defeating Giants
SPECIAL: The Story of Easter ($9.95)
We give this product five stars! So glad we can listen to the Word and looking forward to getting a couple more in the next few months.
See what the rest of the crew is saying here.
~S
Disclosure of Material Connection: I received this product through The Old Schoolhouse Homeschool Crew in exchange for my honest opinion. I was not required to write a positive review. The opinions I have expressed are my own.