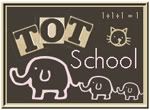 Kahlen is (almost) 41 months old




We are following the Hubbard's Cupboard curriculum for 2's called Joyful Learning. For two weeks, we learned about babies, both animal and human.This was week two, which was last week :)
You can find my planning sheets for this unit here.

Day 1:

We started out with Is Your Mama a Llama video that's part of a big set of Scholastic videos her grampa got her for Christmas two years ago.
Next, we matched mommies and babies (using the same pictures from last week's dice game)

Ha! Managed to get a picture before she scattered them.

Of course, she wanted to do the painting one next.

I (*ahem*, my husband) made animal cutout sponges of a duck, a bunny, and a horse. The only one that's really recognizable is the duck, but that's fine, she didn't notice :)

Then we did a sequencing activity. She still has a hard time with AB patterning, although it's hard for me to tell if she knows how and just doesn't like it, or if she really doesn't understand what I'm asking her to do, or what the trouble is. Regardless, it's something we're still working on.

We also spoke our verse again and did this great Customized Handwriting Pages with her name, although she was pretty done by this point, so she only had to do it twice instead of all five times that were on the worksheet. She's such a lefty, she always wants to start on the right side of a word instead of the left and the bottom instead of the top. I'm grateful that my sister is a lefty and I know that it's perfectly normal and with some help, she will get the hang of it :)

Day 2:

We did our stART project first with the book Maybe, My Baby.


The yellow tray was a YouTube

video

with stills of baby animals, so we watched that next

Painting was next. She had to put the cotton balls on the clothes pins and then paint with them.


We also spoke our verse again, and talked about it. She wanted me to come up with lots of examples of rebelling, since that's one of the words in the verse.
The last activity was "This is the way the Animals Move" to the tune of Here We Go Round the Mulberry Bush (see words here), which she wanted to keep doing over and over :)

We went to City Park for a party on Saturday. She rode the train over and over and over...we had it rented out for an hour :) Here's my favorite from the party:


~S