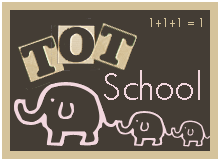 Kahlen is 38 months
We are following the
Hubbard's Cupboard
curriculum for 2's called
Joyful Learning
so for the last two weeks, we will be talking about Doctors. Last week, we focused on doctors and germs.
Here are the trays for day one:
The pink tray simply had a piece of construction paper and scissors for random cutting practice. She got tired of it pretty quickly, so we moved on.
We sang our verse song for the unit, which is
Luke 6:31
- Do to others as you would have them do to you. I will add that it's been really really good for me as well to have this scripture memorization tool.
Next, we did a "doctor bag" sorting activity. I didn't really have anything to use as a doctor bag, so I just used a small blue duffel bag and filled it with cotton balls, q-tips, and band-aids (left from last week).
I then gave her a pair of tongs that I got at the party store for less than $1 and a pair of tweezers. She was supposed to sort all the items out of the bag and into three separate bowls, which she did. Then I let her play whatever she wanted to with them. She played with them pretty much the rest of the day. Actually, more like the rest of the week :) She put them in things, took them out, used them with her tea set, used them with her blocks, and on and on. It was great, but now I have to hide them for awhile before throwing away all the poor shredded q-tips and cotton balls (the band-aids I rescued early on so they didn't end up stuck to everything!)
The last thing we worked on that day was a floor puzzle that her abuela got her at good will. She hasn't shown much interest in puzzles before this, but she stuck with this one and finished it pretty much by herself. I was there to help when she got stuck, but she didn't need that much help.
For day two, here are our trays:
Then we did a fun germs activity with glitter and lotion. I gave her some lotion and glitter and told her to rub it all over her hands, telling her that the glitter was like germs and discussing that while she kept rubbing.
After it was all rubbed in, I asked her to wash her hands just with water. I didn't let her do it very long for fear she would get it all off, which I didn't want at this point :)
Then I gave her some soap and kept talking about why it's important to wash our hands so we get all the yucky germs off. She had to wash twice to get them all off. Then she wanted me to do it too, which I did ;-)
I also thought we could repeat our letter file folder game from a few weeks ago, but again, she just wasn't in to it today, so we skipped it. She did play with her letter beads a different time this week and color sorted them onto laces.
That was it for our doctor unit! I feel like we've been doing a pretty good balance of instruction and just fun activities; there'll be plenty of time later for actual "school".
~S