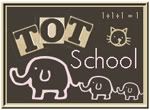 Kahlen is 38.5 months old



We are following the Hubbard's Cupboard curriculum for 2's called Joyful Learning so for two weeks, we are learning about Baking. This week, it was Cake and Pizza.

Unfortunately, I didn't make it to the library this week, very sad we didn't get to participate in stART this week :( We still did our crafts, but didn't read the books that were supposed to go with them.

We did get to do a shamrock craft with a friend, though, which was good for the kiddos. I was watching a friend's kids so she could get some work done at her new house, so I thought a craft would be a better way to entertain them for a little while. I got the idea from No Time For Flashcards here

Here are the kiddos hard at work
Here are what the other two kiddos were doing :)
The finished product.

I just took the ribbon I already had on the door from our Valentine's Day banner, took off the Valentine's stuff and added these shamrocks. This will probably be the extent of our St. Patrick's day crafts because I'm excited to start our next unit, which is a month long Easter unit.


For our first day of school, here are our trays:

Since I didn't have a book, the yellow tray was a YouTube video of Pat-a-cake since we were talking about cake.

Next, we made grape playdough


Then we made birthday cakes with our playdough while singing pat-a-cake

We then put candles in the cakes, four in her's since she'll be four on her next birthday and 1 in mine for her brother's next birthday. She asked me if we could fire them, so I lit them and let her blow them out


I had her sort the candles by color next and then we talked about which color had the most, which ones were the same, etc


Our next tray was counting and number recognition. We had three paper cakes that I drew a number on and then we glued paper candles and flames on. She was pretty focused through the first one, and lost focus starting in the middle of the second one. By the third cake, she was done, so we didn't do the flames on that one. It took us about 10 minutes to get to that point, so I'd say that's pretty good.


After we did our handwriting worksheet and our verse song, she wanted to play with the playdough more. So she did. For the next hour. And after nap. And the next day. Take a look at the video on my Mommy Monday post to see what she was doing with it :)


For our second day, here are our trays:


First, we made paper pizzas. We had three pizzas varying in size, and a baggie full of toppings (cheese, green peppers, sausage, olives, and pepperoni)

She did great on the first one, started lagging on the second one, and didn't want to do the third one (sound familiar?) I did the third one since we were planning to use them for another activity later.

Next, we sorted a bag of clip art images into "baked" or "not baked" items (bread = baked, beach ball = not baked). Then we matched their letters up:

She's not really getting the whole sounds of letters and beginning sounds thing yet, but can't hurt to start now. Also, she's not very solid on letter recognition, so that's something we'll definitely be working on!

We were going to do an activity with "pizza boxes" as seen on the light blue tray. The activity goes something like this: Cut up the pizzas we made into pizza slices. Sort them by size into the correct pizza box, small, medium, or large. Reassemble pizza inside "box"
We didn't get to it because the pizzas took a long time to dry after gluing the toppings on. Guess I should have used a glue stick, oops.

Since she's in such a singing phase right now, I love doing the verse songs with her because she picks up on them really quick. Too bad she's so opinionated these days and only wants to sing it once :)

Last, we made pizzas for lunch. I let her basically do the whole thing. She's been helping me cook for a long time, so it wasn't really a stretch except that she was having a hard time keeping the sauce on the muffin.



Wow, we actually did more than I thought!

I hope to post our Easter plan sheets for the next two weeks soon, so keep an eye out for them!

~S