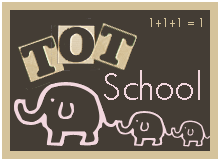 Kahlen is 37 months.
This is part three of what we did for Valentine's Day activities. See
here
for the first day and
here
for the second day.
Here's our tray line-up for the day:
On day three, we started with our
stART project
.
Then we did the heart pattern match up game that we already had done last week. She thought it was fun, but it lasted less than two minutes.
Next, we worked on our letter V dot page.
First, we used our pom-pom magnets and cookie sheet to trace the letter.
Then we used dot paint to color in all the dots. She didn't really want to only dot her paint once per circle, so I gave up and let her do it however she wanted.
I didn't get any pictures of our last activity. She decorated two paper hearts. Then we stapled them together almost all the way around and stuffed it with newsprint. I then finished stapling it and we played "hot potato", well sort of. We sang our memory verse and passed it back and forth. Whoever ended up with it did not win. She seemed to enjoy it overall, but I think it would have been better if there were more people (i.e. Daddy) to play with. Maybe next time!
~S