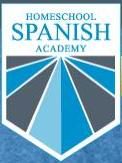 Homeschool Spanish Academy is a high quality online Spanish language institution committed to the growth of young home schooling Spanish students and to providing best-in-class solutions for any parent.
Experience and learn Spanish through interactive immersive lessons with with 1-on-1 instruction from native Spanish-speaking professional instructors, via Skype video conferencing. We have focused programs for all ages from teaching young kids to adults. Perfect for home schoolers, or as a tailor made
alternative to Rosetta Stone.
Homeschool Spanish Academy was very generous in giving us a half semester worth of classes to review their services. This means 7 25-minute sessions with a Spanish teacher live from Guatemala! We had the pleasure of being taught by Nora, one of their competent and friendly teachers.
The first thing they did was have a tech call us to get everything set up before our first scheduled class time. The lessons are completed via Skype, so the tech made sure that my computer was working correctly and helped me to set up everything.
When it was time for the lessons, I just had to open Skype, and our teacher would initiate the call. At the beginning of each lesson, the instructor asked how we were doing and made small talk for a minute before starting the lesson. She had a PDF document on her computer that she shared with us and walked through everything on the lesson. She was very patient and gave just enough prompting for Kahlen to be able to learn the material.
I was very impressed with the service, the lessons, and the instructor. Kahlen really learned the material better and was able to retain at least some of it from lesson to lesson. I also appreciated that Nora emailed me the lesson PDF after we were done so we could review them between lessons. I also liked that I got to set the time for each lesson, and it didn't have to be the same time every week.
Kahlen was funny about the lessons. When we weren't doing them, she would say how much she loved them. When it was almost time for her lesson, she would say that she didn't like it. But I did figure out why…she told me that it was a lot of work for her, almost hard. So I think it was good for her. Especially during the summer, she needs a bit of "work" in her day.
She is sad, and so am I, that our lessons are over. We may decide to use this service again, but I haven't talked to hubs about the budget for schooling yet this fall
Their pricing is very reasonable for what you get. This is the early language pricing, but they offer classes for any age (5+). You can also choose their 2-on-1 option, which you can see pricing for here.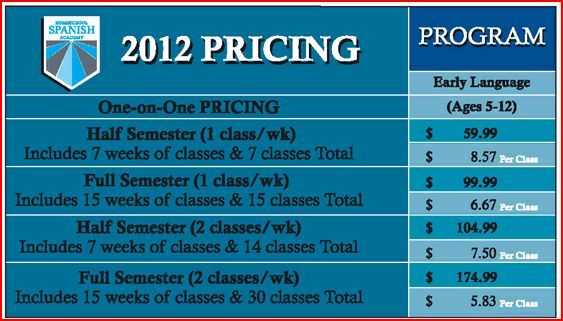 We love this program and would definitely recommend to anyone wanting to really learn Spanish!
Sign up for a free trial class here. And like their Facebook page or follow them on Twitter for $5 off!
~S
Disclosure of Material Connection: I received this product through The Old Schoolhouse Homeschool Crew in exchange for my honest opinion. I was not required to write a positive review. The opinions I have expressed are my own.