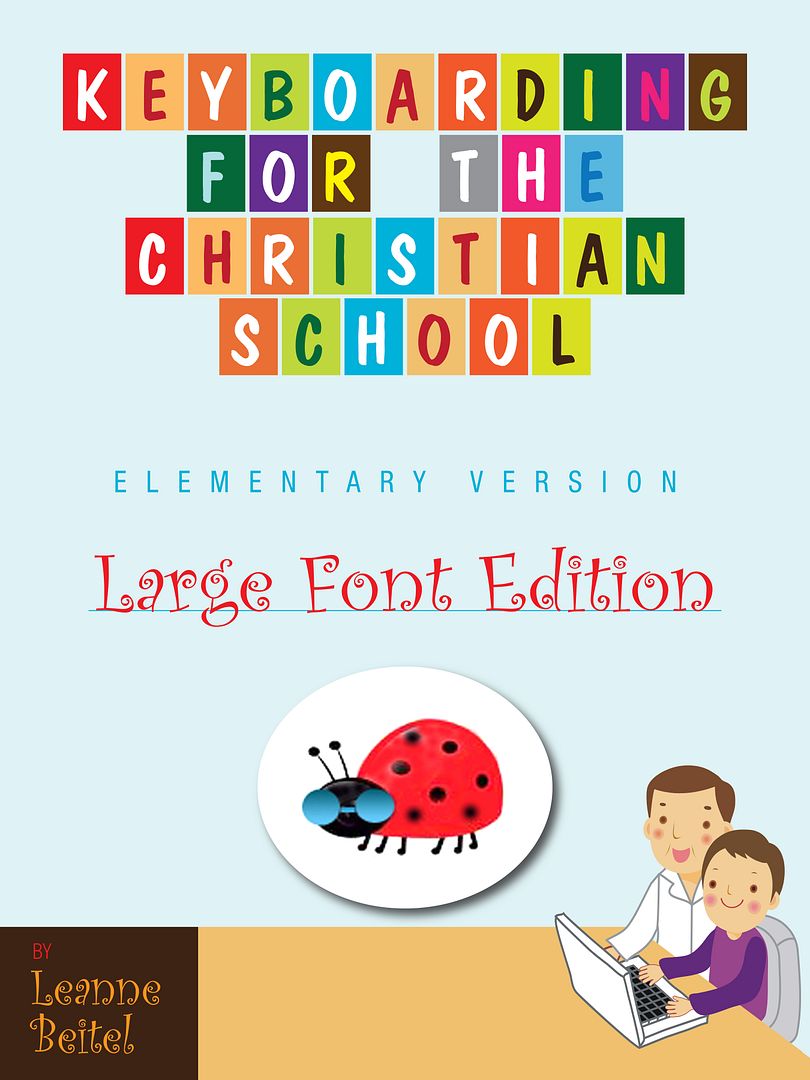 HISTORY OF CHRISTIAN KEYBOARDING:  As Leanne was teaching in the private school arena; she noticed a need for Christian material for the computer courses since the only ones were Glencoe, Century 21, and Mavis Beacon software.  Through a diligent search; there was no suitable curriculum which demonstrated proper touch-typing methods, offered MLA and APA report formatting, and had Biblical-based references and material for students to copy.  Thus, Christian Keyboarding was formed combining the elements needed to satisfy state education requirements and Biblical references for the private school requirements.
I have to admit, I was very skeptical about this product when I was chosen to review it through TOS. I mean, a keyboarding program that is an e-book/printable instead of a "game" or some other electronic method? But, this is why we get to review products, right? ;)
Here's the deal: Kahlen *loves* this program. She has really enjoyed the lessons we've done. I printed it double sided in booklet format and it just sits next to the computer while she's typing. I think it makes her feel very mature to be typing just like mommy does.
So, what I like:
The length of each lesson. It's perfect for my 5.5 year old. It would be easy to do another lesson if it's too short for your child.
The extra words to explain what you will be doing in each lesson. They are appropriate; not too basic, not too advanced as far as the word choices and quantity.
By lesson 11 (out of 31), the lessons are already having her type some portions of appropriate verses in addition to the nonsensical letter and word combinations. This goes well with my eclectic-leaning-toward-classical homeschooling methodology.
Things that slightly annoyed me:
I still think that Elementary Keyboarding could be just as easily accomplished with a computer program or website app without the need to print anything out. That adds to my cost and adds a level of frustration that is not needed. When Kahlen is just learning where the letters are on the keyboard, it's very hard for her to keep looking at the paper, then back to the keyboard. Also, if it was all on the computer, I would not have to sit with her while she practiced, because the computer would be able to help her with what she was learning next. Not that I want her to always do schoolwork by herself, but we could get a lot more done if it was something she could sometimes work on by herself.
I also think it would be helpful to show the entire keyboard at least once in the first few lessons, not just the row of letters that they're working on. Since this is Kahlen's first exposure to typing, she didn't even know where to look for the letters that were shown in the picture in the book.
Overall, we enjoyed this product and will be happy to continue it when we have time. I definitely agree that keyboarding is a necessity and a good foundational learning will help her in the long run. If she's ever going to catch up to my 90 words per minute, this is a good place to start.
The normal price for the Elementary Keyboarding from Christian Keyboarding is $12.95 but I have a coupon for you! Use code SUMMER2012 through August 29, 2012 to get 20% off this or anything else from their website. They have an e-book designed for 6th grade and up as well as a few e-books teaching Word 2007 skills like Creating Columns and Creating Tables. So go check it out!
~S
Disclosure of Material Connection: I received this product through The Old Schoolhouse Homeschool Crew in exchange for my honest opinion. I was not required to write a positive review. The opinions I have expressed are my own.