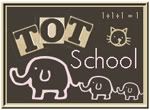 Kahlen is 41 months old
I decided this week that I'm going to start linking up to Preschool corner from Homeschool Creations as well. I feel like we're kind of between these two, more toward Preschool corner :) I tend to use our tot trays more like the workbox system that I've been reading about and less about free play. I'm guessing soon when Nate starts joining in, the trays will be out for him and we'll do more workboxes for Kahlen.
Day 1:
Next we made a new placemat. Because we participate in
Muffin Tin Monday
every week, Kahlen came up with the idea that she needed a muffin tin placemat since we have one for her regular meals with a plate, fork, spoon, and cup. Took me a little while to figure out the best way, but here's what we came up with:
I found some great printables over at
The Ramblings and Adventures of a SAHM
for shape tracing and letter find pages. I printed out the shapes one on card stock and laminated it. Kahlen's been doing pretty good with it, definitely good practice.
We also did the Find the S page. (You know, S is for Sunflower :) )
She wanted to sing the verse without my help, so of course I let her! It's amazing to me how fast she can memorize things, wish I could too!
Day 2:
This is the Sunflower
by Lola Schaefer. I was very impressed because she realized that it was a cumulative rhyming book like two other books we own but haven't read for awhile. When I started reading it, she said "Hey, Mommy! This book is like the Jack's house book!" Made me smile :)
We then made a sunflower from a paper plate. She painted the edge and did a great job putting paint only on the edge where I told her to.
She then was to give them away to people she thought might like a flower. She gave two to Grampa and Grammy and I think we still have the other two, oops.
She traced one side of her shapes sheet that I made earlier in the week, but was not really focusing by that point, so we moved on.
Our last activity for the day was a running one outside. Yea, had a hard time getting her to come back in :)
We took a fake flower and placed it at the far end of the grass, and she had to run and get it and bring it back. I timed her so she could beat her own time.
Our next unit is on Zoo Animals. I'll be posting my planning sheets soon, so stay tuned!
~S