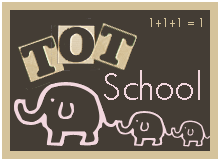 Nathanael is 22 months
Um, yea. We have been doing things, honest! Just haven't wanted to spend the time to blog it, ya know? Anyway, his morning nap keeps getting shorter, so we've been including him in some of our preschool themed activities. Here's some pictures from the last few months…
He *loves* to dot paint!
Playing *in* the sensory bin
He's never been much of a movie kid, until we discovered Signing Time and Baby Signing Time. He even signs "time" now when he wants to watch it. I can't say enough about these videos, they are amazing! He is a reluctant talker, and these have helped so much. We were already using sign language, but these videos took it to a new level. He's even speaking a bunch more words verbally because of these videos! I have to go to the library every week just to check out a new one :)
Playing with pompoms while his sister finishes her school work at the table. He stuck one inside his paci and thought it was hilarious!
Playing with another sensory bin, this one had colored rice in it, among other things.
Making a gumball machine with stickers and crayons. He liked the idea of this one better than the actual implementation. The stickers kept getting stuck to his fingers and he was not pleased with that!
Those are the pictures I can find for now…what have you been doing with your tot? Link up at 1+1+1=1!
~S