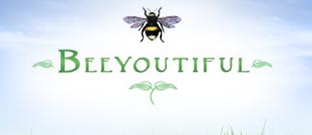 If you'll notice the first part of my "About Me" statement, it says Slightly Crunchy. This product falls under that category :)
About Beeyoutiful:
At Beeyoutiful.com, we believe that each individual is responsible for their own health. It is not a doctor's responsibility to keep you in good health. Instead they are a tremendous resource, especially for those times when urgent care is required. But, they are only one of many resources. And the tools they use, while powerful, are not the only tools available. But a tool is worthless unless one knows how to use it.
We have found a lot a tools that have worked very well for our families, and made Beeyoutiful a repository for those tools, as well as the information to effectively use them. As we learn more, we share more. Our goal is to eventually carry every natural product that we use. We're not there yet. We may never be as we are constantly being exposed to new and great products. As much as is in our power, we want to aid others in obtaining and maintaining good health.
I got to pick my top choice out of three packages. Here's the one I picked: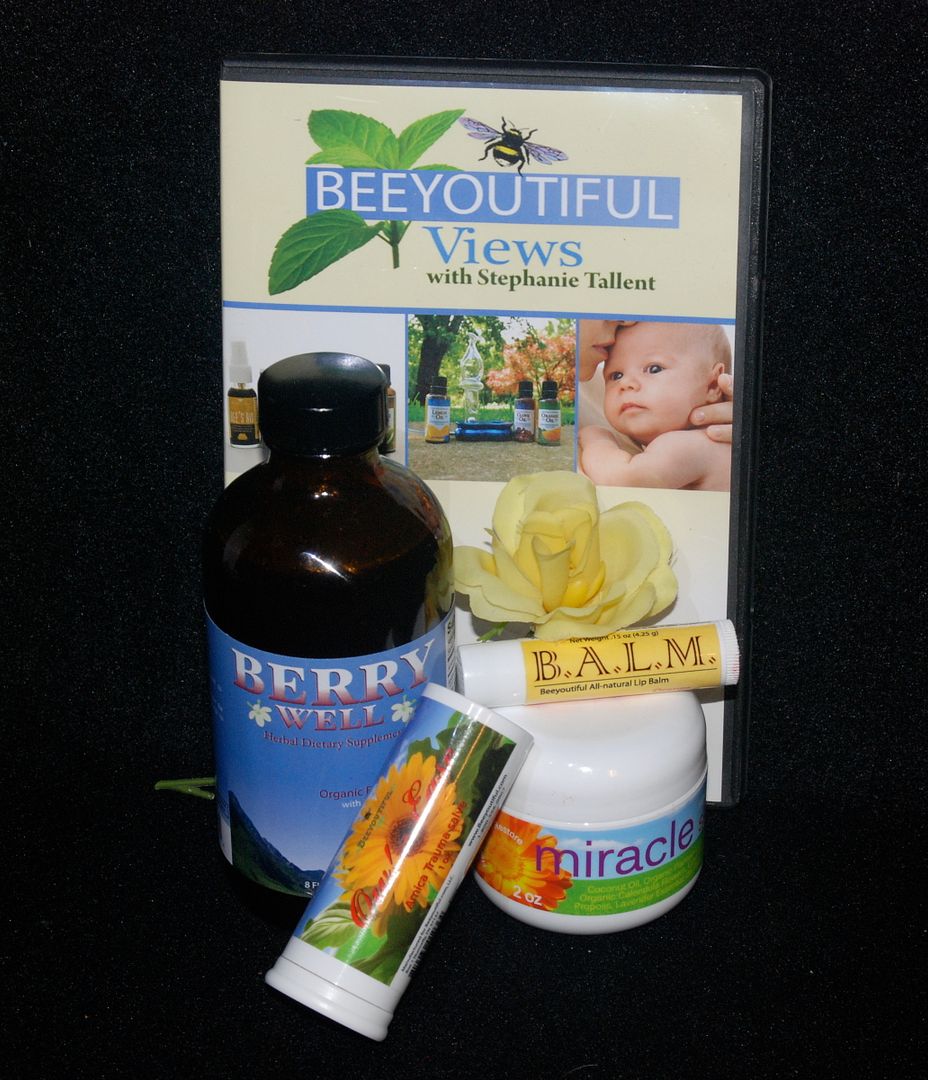 1 Berry Well ($19.75)
1 Miracle 2 oz ($15.00) 
1 Ow-Ease ($15.00)
1 DVD ($3.00)

My husband was very skeptical, especially of the Ow! Ease, but I grew up using similar products and was interested to see how their products stacked up against others that I have used before.
To start with, here's a bit about the Berry Well syrup: Never fear the flu when you keep Berry Well on hand. Each ingredient in this pleasantly fruity syrup holds its own against flu, colds, and a swarm of bacterial and viral infections. This organic Elderberry Syrup contains Propolis, Raw Honey, and Echinacea.
I have not really had the chance to test it out yet as far as effectiveness goes as I haven't really been sick yet this year. I did take one dose to see what it tasted like and how it went down. It was sweet from the honey and slightly bitter from the elderberries, but not unpleasant. I don't think I'll have any trouble getting my kids to take it because of the honey :) One thing I really like about it is that I can give it to the baby as soon as he turns one in January, which is still prime flu and cold season.
The next product I receives is the Miracle 2 oz Skin Salve: Don't be rash! Miracle Skin Salve promotes deep healing and restoration using a soothing blend of organic herbs and oils. From sunburn, chapped lips, and diaper rash to painful wounds and burns, apply salve as often as needed and watch your skin smile!
Nate in particular has very sensitive skin. He gets that part from his daddy. He's also very prone to eczema, thanks to me. We almost got rid of it over the summer, but now that it's fall, it's already coming back. I have been using the Miracle Skin Salve on that as well as on Shane's back where he's getting dry skin and his diaper rash when it crops up. Both applications, as well as using it on my chapped hands, have been pleasant as well as mostly effective. I have come to believe that nothing is going to be a super-healer-completely-effective on Nate's eczema, but this does seem to help. It also seemed to help with his itchy level. As for diaper rash, as long as the rash was just starting and not too bad, it helped right away. For major rash, I still reach for my commercial creams. Also, it didn't seem to do anything for the dry-skin-bordering-on-rash that Shane had all over his back after bath time.

One thing I did not like about the Miracle salve is that there was a hard crust on the top of the salve that I had to break through in order to use it. It seemed like the beeswax had hardened more than it was supposed to and formed this crust. But, it did not make it unusable, just  not as creamy as I would have expected. The rest of the jar seems fine, it was just the very top layer.
Last was the Ow-Ease Arnica trauma salve: Ease your pain away. Using a proprietary blend of herbs, Ow!-Ease relieves pain associated with sprains, strains and pulled ligaments and muscles, bruises, and contusions. It works quickly and effectively to help reduce swelling and muscle pain, and is excellent as a rub for body builders, construction workers, and gardeners alike. The amazing qualities of these herbs work synergistically to soothe, restore, and actually speed tissue healing.
This is the one that I really really like. I have been looking for a good Arnica salve or cream of some kind. I've tried a few different ones, all which have been too liquidy. They haven't stayed where they were supposed to and were even hard to cover with a band-aid because they were too wet. Ow! Ease was none of those; the formula and application was super easy and super effective! Nate fell off the stairs the other day and gave himself a bloody nose. I could see the bruise forming on the bridge of his nose. I spread a liberal layer of Ow! Ease and no bruise! Seriously, there was no bruise whatsoever! Anytime one of the kids gets a bonk now, we reach for this product. I like the ease of application and that it will spread just a bit or a thick layer, depending on what you need. The kids like the way it feels and the way it smells. I can't wait to try it on my sore muscles from my run yesterday too!
The DVD that is included does have a ton of product knowledge, but it was difficult for me to watch because of the style of speaking. I think I would rather stick to reading about the products, which seems like it would provide me with the same information.
So, overall, I liked these products. My favorite by far is the Ow! Ease. I don't think that I will re-purchase the other two when I run out, but I will be using them until they run out, and maybe I'll change my mind by then, who knows? They're fine products, I'm just not sure if they're worth the money to me and my family.
You can find more about the company and the other products they offer
here
. They have essential oils, makeup, skin care, vitamins, and more.

~S
Disclosure of Material Connection: I received this product through The Old Schoolhouse Homeschool Crew in exchange for my honest opinion. I was not required to write a positive review. The opinions I have expressed are my own.