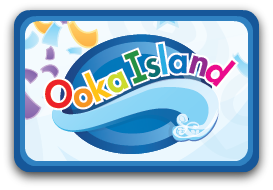 The Ooka Island Adventure is a downloadable hero-mission in 3D designed to teach young children how to read fluently and well. The Ooka Island Adventure combines the highly engaging components of a state-of-the-art virtual world with the scientifically proven OokaMethod that builds literacy skills.
Carefully embedded within the Ooka Island Adventure are dozens of interactive instructional activities that captivate the child and motivate them as they learn essential pre-reading, reading, spelling, and writing skills. After completing the Ooka Island Adventure, children will be on their way to reading fluently and well for life.
Ooka Island has provided some interesting insights into my daughter's attention and computer abilities. She really loves this game. She likes that it's her very own and she can do it all by herself. What I've learned is that I haven't let her do activities like this enough and I would rate her as behind in her ability to use a computer. This cracks me up because I started using a computer so early. Anyway, we have both enjoyed this opportunity to review Ooka Island. She can play for at least half an hour with no help or input from me.
Even Nate likes it. He watched Kahlen play for 20 minutes one day, which is really long for him. He won't even watch TV of any kind for that long.
Kahlen liked the variety of activities that she went through. The one thing that was a bit frustrating was the "free play". The game goes through guided activities, one right after another, with no opportunity for her to choose what she wanted to do next. There is a "free play" time, which according to the Guidebook should be every 20 minutes of play. The free play wasn't really long enough for her to do more than one or two activities and it seemed to come every 30+ minutes instead. I generally don't like her to be on the computer for that long, because I have chosen to limit screen time of any kind to less than an hour a day.
Other than that one thing, though, we really enjoyed this product. The activities were challenging yet fun enough to keep her playing until I made her stop.
For more information, visit their FAQ page or browse around their website.
Right now, they are running a new launch special:

Otherwise, here is their pricing structure:
Would I have bought this program without the review? Possibly. I generally stick to free or cheap. BUT we have enjoyed it and I think I would have been willing to pay for it if I had known how much fun she would have with it. Four stars for game play and learning activities.
See what other crew members are saying here
~S
Disclosure of Material Connection: I received this product free through The Old Schoolhouse Homeschool Crew. I was not required to write a positive review. The opinions I have expressed are my own.