For this review, I received two products: I Don't Have Enough Faith to Be an Atheist and the accompanying workbook both from Apologia Press.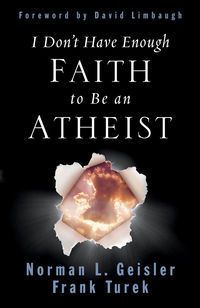 Sample Chapter

Table of Contents

To some, the concept of having faith in a higher power or a set of religious beliefs is nonsensical. Indeed, many view religion in general, and Christianity in particular, as unfounded and unreasonable. Norman Geisler and Frank Turek argue, however, that Christianity is not only more reasonable than all other belief systems, but is indeed more rational than unbelief itself. With conviction and clear thinking, Geisler and Turek guide readers through some of the traditional, tested arguments for the existence of a creator God. They move into an examination of the source of morality and the reliability of the New Testament accounts concerning Jesus. The final section of the book deals with a detailed investigation of the claims of Christ. This volume will be an interesting read for those skeptical about Christianity, as well as a helpful resource for Christians seeking to articulate a more sophisticated defense of their faith.
Sample Chapter

Table of Contents
Introducing Apologia's first apologetics curriculum for high school students! Based on Norman Geisler and Frank Turek's best-selling book I Don't Have Enough Faith to Be an Atheist, this study will prepare teens and young adults to defend their Christian faith with boldness and effectiveness. During this course, your student will tackle the question of absolute truth, demolish the follies of postmodernism, debunk moral relativism, and march logically and surely toward the inescapable truths of the Christian faith.
I have not yet read the entire book, but I'm looking forward to doing so. Already, within the introduction and first few chapters, I'm intrigued and interested to see the authors flesh out their points. It reminds me a lot of other apologetics books that I have read in it's logical progression, but is different enough that it is still interesting. The introduction lays out clearly where the book is going, which I really appreciate. I feel like this book would be good for anyone who is willing and able to read it.
The authors make an excellent point in the introduction:
There's a difference between proving a proposition and accepting a proposition. We might be able to prove Christianity is true beyond reasonable doubt, but only you can choose to accept it. Please consider this question to see if you are open to acceptance: If someone could provide reasonable answers to the most significant questions and objections you have about Christianity – reasonable to the point that Christianity seems true beyond a reasonable doubt – would you then become a Christian? Think about that for a moment. If your honest answer is no, then your resistance to Christianity is emotional or volitional, not merely intellectual. no amount of evidence will convince you because evidence is not what's in your way – you are. In the end, only you know if you are truly open to the evidence for Christianity.
So, whether you are already a believer looking to deepen your understanding of the truth, or a seeker thinking about the truth claims of Christianity and the Bible, this is a good place to find answers.
The workbook is written for high school students and you can tell, it doesn't really provide any thought provoking questions, more just provides reading comprehension questions. If you have a hard time remembering and processing what you've read this would be a good resource. However, for me, it would just be time consuming busy work. Again, though, I think it has a place.
This set is 4 star material. The book is well thought out, yet easy enough to read. The workbook would be great for the correct audience.
The book retails for $16 and the workbook is $33 from Apologia Press.
~S
Disclosure of Material Connection: I received this product through The Old Schoolhouse Homeschool Crew in exchange for my honest opinion. I was not required to write a positive review. The opinions I have expressed are my own.