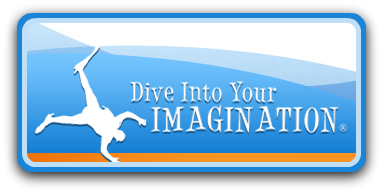 Dive Into Your Imagination was started by Annie Crawley, aka Ocean Annie, to bring the ocean to children in all its beauty and color. Her goal is to help children (and adults) love the ocean and thus be inspired to protect and care for our environment and ocean.
In her training and career as a print and broadcast photographer, Annie traveled the world and discovered the magical world of the ocean. Ocean Annie lived and worked around the world as a scuba diving instructor and sailor, underwater photographer and cinematographer. She has poured her knowledge and experience into her own company, Dive Into Your Imagination, which features many resources sharing her love of the ocean and its inhabitants. One of these resources is a series of award winning DVD's aimed at preschool and elementary students featuring her exquisite photography and demonstrating her love for the ocean and the life found in it.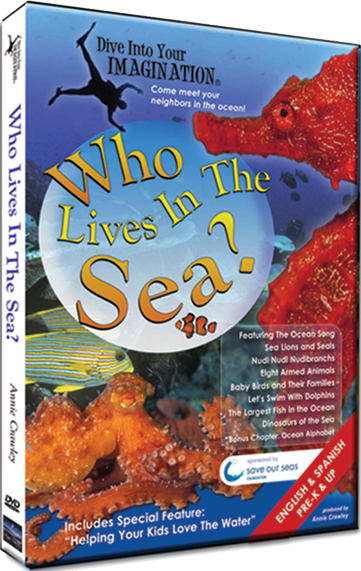 We received Who Lives In The Sea? from Dive Into Your Imagination for review. We also received a PDF that goes along with it, containing activities and additional information for each chapter of the DVD.
The cinematography in the DVD is beautiful. You get to meet whale sharks, octopus, blue-footed booby birds, and more. There is a ton of information about each animal that is presented. The chapters on the DVD are reasonable in length and kept both my kids interested for a reasonable amount of time (20+ minutes for my almost-3-year-old).
The Educator's Guide PDF came with a huge amount of information and activities for each chapter. The dolphin chapter alone was 32 pages! The disadvantage for me was that it is set up for a classroom, so I had to modify the activities to be able to use them for just one, maybe two kids. But other than that, the guide was very helpful and had good activities.
These products are fun and engaging. They teach your kids (and you!) a ton about the ocean and animals that live there.
Each DVD retails for $19.95. There are 3 DVDs in this series. You can see a video preview of this DVD here.
The guides are available as a printed version for $299 (for the whole set of them) or as individual PDFs for $69.95. As a special for the Homeschool Crew and The Old Schoolhouse Magazine and followers Annie Crawley of Dive Into Your Imagination, she will gift you a set of PDFs with purchase of the DVDs. When you place your DVD order, just let her know in the notes that you are a Homeschool Parent!
See what other crew members are saying here!
~S
Disclosure of Material Connection: I received this product through The Old Schoolhouse Homeschool Crew in exchange for my honest opinion. I was not required to write a positive review. The opinions I have expressed are my own.