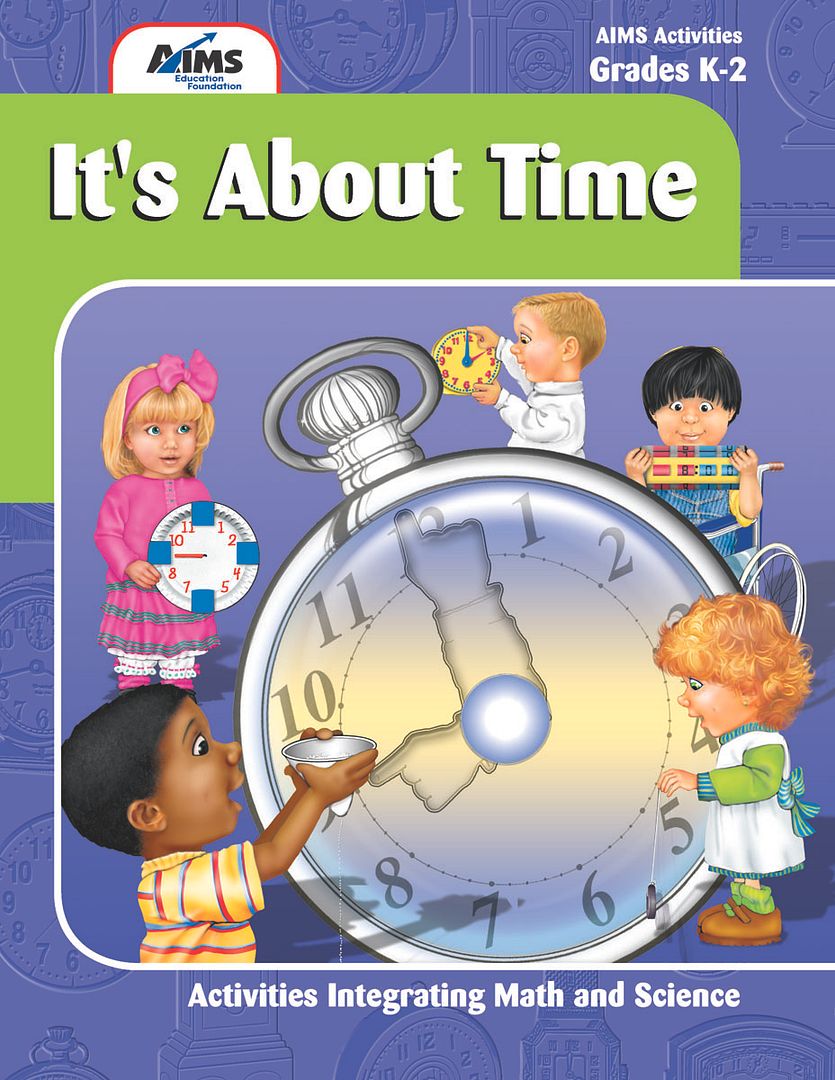 Young children are eager to learn how to tell time and to understand the mysteries of analog and digital clocks. It's About Time uses a series of investigations not only to build an understanding of how to read a clock, but also to provide a solid, conceptual understanding of time and its measurement.
A unique exercise within this book has children literally building a human clock, an activity that provides a powerful visual understanding and connection of time and its sequence.  They are introduced to one color-coded clock hand at a time, and they also see the special relationship between the benchmark numbers 3, 6, 9 and 12.
It's About Time will have students sequencing events, measuring duration of time, and reading clocks. Time is read in hour, half-hour, five- and one-minute intervals. Several playful practice activities are also included in this book -- from a cake-walk game to a version of Bingo called "Time Out" -- that reinforce the students' new abilities to tell time and make them successful clock readers.
We received this activity guide from AIMS that is designed for grades K-2. It contains 22 different activities to help young children learn how to tell time.
The book is written for use in a classroom, so I had to modify the activities to work with homeschooling. The activities are laid out well, but there is a lot of preparation for the teacher, aka me, for each one including copying, cutting, printing, and getting other materials ready. The activities are age-appropriate, and I think they will be helpful in teaching Kahlen how to tell time. We've only had the chance to do a few of them so far, partially because I've had to sift through which ones are needed and which ones are too easy for her and partially because of the modifications and prep time needed, I just haven't been able to do very many yet.
Overall, I think the book is useful, but because of the formatting toward a classroom and the time-consuming nature of the preparation for each activity, I give it three stars.
You can purchase the book or a PDF download for $21.95. AIMS offers other books that integrate math and science including What On Earth?, Fabulous Fractions, and many more.
See what other crew members are saying here.
~S
Disclosure of Material Connection: I received this product through The Old Schoolhouse Homeschool Crew in exchange for my honest opinion. I was not required to write a positive review. The opinions I have expressed are my own.