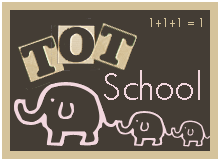 Nathanael is currently 42  months.
I finished our tot school co-op that I was teaching at my house. Yep, I have all the pictures and plan sheets. Maybe someday I'll get them all posted, it just didn't seem like a priority at the time. We had a blast, but I'm glad to be done with it for now.
The new semester brings a new plan and new ideas for tot school. I am still co-oping first grade hands-on projects with a friend of mine, so I have her three year old once a week for two hours while she takes Kahlen to do the fun hands-on parts of Tapestry of Grace. I debated a really long time about what I should do with Nate and Tilly during this time, and finally settled on B4FIAR without actually using the book. I wanted something that requires very little planning time for me, and this fit perfectly because there are so many great resources available. I am mostly using Homeschool Creations and Homeschool Share as resources with a bit of Pinterest thrown in for good measure. We'll be doing lap journals, kind of a cross between lapbooking and notebooking as explained at Delightful Learning.
This week was our first week back after winter break. Since we're starting in the middle of winter, I decided to start with The Mitten. Here's a few of the activities we did for co-op:
Roll and graph from 1+1+1=1 (Who was also doing The Mitten this week!)
Coloring mini books "This Mitten is…" I love the look on Tilly's face while Nate vigorously scribbles away
Making snowball cookies from Totally Tots (Vanilla Wafers, Cream Cheese, and Coconut)
Mitten Lacing
They also did a puppet show with the story props from 1+1+1=1, but I didn't get pictures since I was helping them.
Also this week, I introduced calendar time notebooks as a way to start off school each day. I got the printables from 1+1+1=1 here and here.
We're doing tot trays with mild success. The main problem is that I want him to be an independent worker, and he's really just not. I am working on some ideas to help him with this, but in the meantime, he just gets frustrated and has an extremely short attention span for each tray activity.
Here he's working on a Montessori style tray with nuts, bolts, and washers that have to be matched up and put together. The first time he did this, he did great! Since then, he's been less excited about it… :/
I also made a pompom stuff it activity for the tiny tot. I had this little takeout container sitting around, so I cut a hole in the top and stuffed some pompoms in it. Of course, he can't do it by himself, and he'd rather try and eat them, but brother helped him fill and dump.
That's what we're working on so far. Next week, we're going to read The Snowy Day and do activities around that book. What did you do with your tots this week?
~S