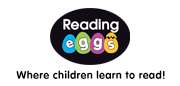 We were given the opportunity to review another online program called Reading Eggs. With Kahlen on the cusp of learning to read, we were both excited about another tool to help her. While I'm still not a big fan of additional screen time as a required part of school, I think that some programs have value, especially when trying to sneak some schooling in during the transition to three kids.
Here's what Reading Eggs has to say about their program:
Learning to read
Learning to read is an important skill for all children. And we wanted to make it an enjoyable experience for children as well. Children love working and playing on the computer and the Reading Eggs program is all about bringing out the best in each child.
Learn to read with Reading Eggs
We created Reading Eggs as a unique online world where children learn to read. It supports each child's learning by offering individual, one-on-one lessons that allow children to progress at their own rate.
Educationally sound
The program has been developed by a highly experienced team of educational teachers, writers and developers. The Reading Eggs program focuses on a core reading curriculum of phonics and sight words using skills and strategies essential for sustained reading success. It completely supports what children learn at school and will help to improve your child's results at school.
Children love it!
With interactive animations, fun games, great songs and lots of rewards, Reading Eggs is a great place to learn to read. Children are highly motivated to return again and again. At Reading Eggs, learning to read is enjoyable as well as very rewarding. Every lesson ends with a new book and a new critter to add to your growing collection.
And it's growing!
Reading Eggs now has 100 big lessons. These 100 lessons are perfect for 4 to 7 year olds who are learning to read.
We are still building more NEW lessons for our older Eggsplorers as part of Reading Eggs World. This world is perfect for 6-8 year olds who already know the basics of reading but who still have much to learn about reading, writing, spelling, and comprehension. This exciting new world has lots of new lessons, a creative story writing factory, new games and will soon have many wonderful new books to read in Storylands. The learning focuses on building reading fluency and comprehension, spelling, vocabulary, and a range of writing skills including grammar and punctuation.
In Reading Eggs World, children have their own house to decorate, a big new shop and an avatar that can walk and travel to many new destinations on Reggie's bus. Children are able to choose their own adventure from a wide range of activities and places to go.
This new world of interactive reading and writing activities will help to set kids up with positive attitudes about reading and learning for life. That's a tall order, we know, but we are passionately committed to delivering this to hatching readers everywhere. Please join us on this magical journey of eggsploration.
I was not able to observe her using this program as much as I would have liked. She has been using and enjoying it, however, and asks to play it, which is an improvement over some other programs we have used and tried.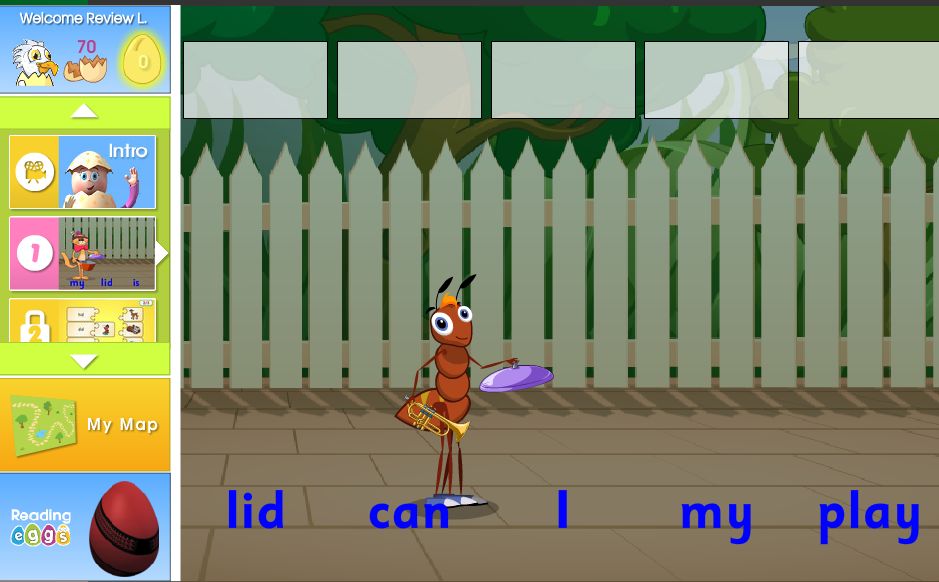 It seems like there is a variety of activities, not just the same ones over and over again. The voices used keep it interesting to listen to from across the room as well. There are also activity pages for each lesson, which we have not utilized but look engaging; we're planning to try those in the next few weeks as well.
You can start out with a reading test to place your child appropriately. I appreciated this greatly because I knew that I was not going to be able to sit with her while she used Reading Eggs and she was going to have to do it by herself. So the reading test was good for her to do by herself to get a more accurate picture of where she is at.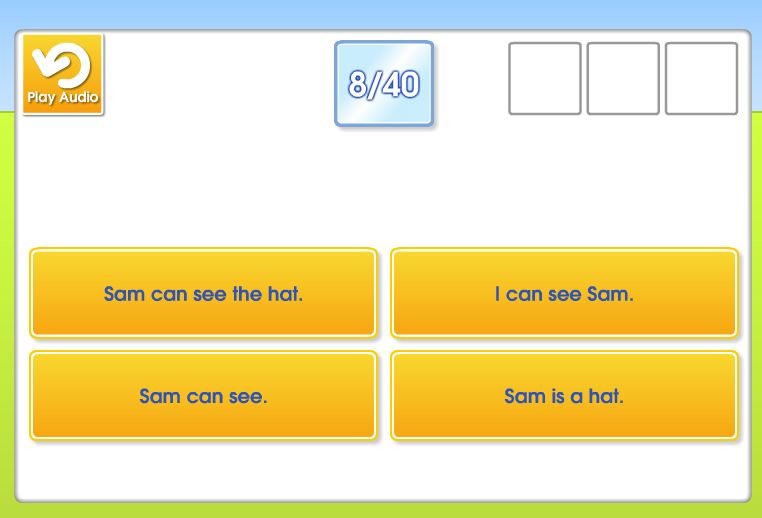 There is also some basic parent reports that give me a heads up on how she's doing and what the most recent activities/lessons are that she completed.
Overall, Kahlen has really enjoyed this program. I feel like it's a good alternative activity to help her stay on track with reading schoolwork while I'm busy with the newborn. She can do it by herself with little to no help from me and it keeps her engaged without being frustrating either in simplicity or complexity. This is not replacing my reading curriculum, but seems like a good supplement.
You can subscribe one month at a time or 6 or 12 months at a time for a discount. Monthly subscriptions are $9.95 for the first child, and 50% the second child. Try a free trial using promo code USH99TSH
See what other crew members are saying here.
~S
Disclosure of Material Connection: I received this product through The Old Schoolhouse Homeschool Crew in exchange for my honest opinion. I was not required to write a positive review. The opinions I have expressed are my own.