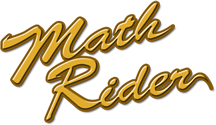 Does your child need help mastering his or her math facts?
Math Rider is a computer math facts game that teaches mastery of all 4 math operations with numbers 1-12 and is designed for children ages 6-12.
Ride your horse on noble quests through the magical MathLands. MathRider combines fun math game play with a highly sophisticated question engine that adapts to your child. The game propels your child to mastery of all four math operations using numbers 0 to 12 in record time.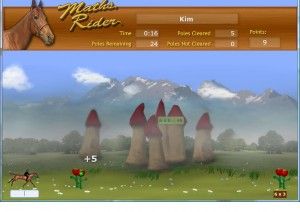 We have not had a chance to review this product as thoroughly as I would have liked. Being hugely pregnant and then having a new baby will do that. ANYWAY, what I was able to see of this program looked fun and engaging. However, I think that at Kahlen's stage of math, early addition, is a little bit too young for a timed game like this. I played it for awhile, and I think that in a year or even over the summer, Kahlen will enjoy it more and really be able to benefit from the game.
Overall, I give this program four stars. It looks like it is a fantastic program for kids who are at any stage of math and just need practice.
Now through February 15th, the price is $37. After February 15th, it will increase to $47.
See what other crew members are saying here.
~S
Disclosure of Material Connection: I received this product through The Old Schoolhouse Homeschool Crew in exchange for my honest opinion. I was not required to write a positive review. The opinions I have expressed are my own.