Wow. This book is dynamite. So much so, it's a bit overwhelming to try and read cover to cover. I tried, I really did, to read the whole 350+ pages, but I just couldn't quite get it all in before the review was due. I'm glad that I get to keep it so that I can go back and read the rest of it!
Anyway…what is this book about? Why is it so dynamite?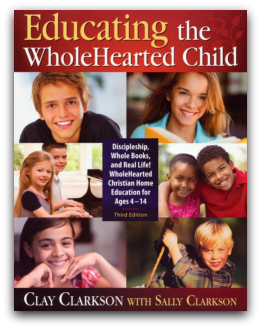 From the publisher:
God did not forget to include "school" in his biblical design for raising children: home education is a natural expression of all that God intended for parents and their children. Clay and Sally Clarkson's Educating the WholeHearted Child is about rediscovering God's original design for the family. What you'll find in this book is a homeschooling model that makes sense. It's an approach that is based on sound biblical principles of nurture, discipleship, instruction, and learning. Newly revised and significantly expanded, Educating the WholeHearted Child is about much more than homeschooling; it is about life. Effective Christian homeschooling must begin with the sure foundation of a Christian home, and the Clarksons' uncomplicated, common-sense approach to life and learning will provide you with the tools you need to experience God's abundant blessings for your family.
Educating the WholeHearted Child covers topics such as:
Learning to Be at Home with Christ
Shaping Your Child's Heart to Live for God
Living and Learning Together at Home
Understanding Your Child
The Study of the Basics
The Study of Living
Keeping the Vision Alive
Keeping the Home Together
A full list of resources ranging from books to forms.
and much, much more.
You can see the complete Table of Contents and a Sample Chapter.
The book covers so so much about homeschooling, discipleship, and just being a Christian parent raising children for God. It's not just about one specific topic, but many. It starts with an excellent and comprehensive set of reasons to homeschool your children and be content in being home with your children. Section 2 is the overview of what home education can look like in your home, which is where I really started getting new-to-me information. Section three covers the practicals of how to implement their education model. The last section covers some more practicals of running your home and keeping your perspective. At the end are some extremely useful forms for keeping track of school, book reports, chores, and more.
It was interesting for me to read the first sections and realize that although I was homeschooled for slightly different reasons (my parents are not believers), a lot of the same principles were implemented and this was back when "home school" meant classroom-type learning at home. My home schooling education was so much different than just classroom learning, and it provided a much better and well rounded education about life and academics than others that I knew. Looking back to that time and looking forward to educating my own children, I am very grateful for my homeschooling experience. That said, the first section of the book was less impacting for me than the practical sections because 1) I have already made a firm, unshakeable commitment to homeschooling my kids and 2) I don't look at homeschooling as anything remotely comparable to the classroom experience or education, which is a lot of what they were talking about and against in the first section.
The second and third sections had a lot of practical help for homeschooling and also for raising your children to follow God. There is even a part about different personality types and how they relate to learning and teaching.
So, what do I think about this book? I love it! If I were a parent that had not yet decided if I was going to homeschool, I would definitely read the first 100 pages. If, however, I was solid in my decision already, I would start with section two and come back to read section one later, after I had read the rest.
Educating the WholeHearted Child ($22.00), by Clay and Sally Clarkson is available from Apologia Education Ministries.
See what other crew members are saying here
~S
Disclosure of Material Connection: I received this product free through The Old Schoolhouse Homeschool Crew. I was not required to write a positive review. The opinions I have expressed are my own.