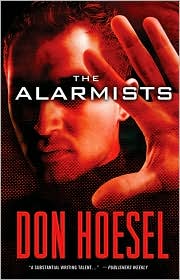 From the Publisher:
Sociologist Brent Michaels' specialty is seeing order in the chaos of human interaction and he's just been given the most important assignment of his life. Joining a special Pentagon unit headed by Colonel Jameson Richards, they have one goal: Uncover why the world is rushing toward doomsday.
It's December 2012 and the world is approaching the brink of panic--the timing of which eerily coincides with the ending of the Mayan calendar. But, beneath the despair of fanatics and doomsayers, and amid a rising tide of both man-made and natural disasters, something far more dangerous emerges--someone is manipulating events, pulling strings, and only Michaels and the team have a chance at stopping the end of the world.
I received this book for review a loooonnnnngggg time ago, like January I think. But with B90 in the spring and then my summer being ridiculously crazy, I just now finished it.
Honestly, it was a hard book to get in to. There are lots of characters at the beginning and lots of locations as the story unfolds. Eventually, though, it does get easier to follow. About 1/2 way through the book, the story really starts taking shape.
As the synopsis above explains, the book is mainly about a special task force from the Pentagon attempting to figure out how certain events are related and how to stop the end of the world!
Once the characters were differentiated and had some personality, I really liked each one and how they worked together. I liked the elements of faith and the integrity of the characters who believed in God. They were able to explain to others why science and God did not have to be independent of each other, which I know is a struggle for some.
The ending was a good climax and tied up all the pieces of the story nicely. I feel like it was a bit rushed, but that is another thing that makes me glad that I am not a writer, endings are so tricky!
Overall, I would give this book three stars. I would not hesitate to recommend it to friends, but only those who love reading. It's not a book for someone who gets lost easily or for someone who doesn't love reading fiction. The story line was good, once you got to it, the writing was very tight sometimes and very scattered at others.
~S
Disclosure of Material Connection: I received this book free from Bethany House Publishing as part of their book review bloggers program. I was not required to write a positive review. The opinions I have expressed are my own. I am disclosing this in accordance with the Federal Trade Commission's 16 CFR, Part 255 : "Guides Concerning the Use of Endorsements and Testimonials in Advertising."